Turpin High School

First Time Visitors
About the Site
We built this site to give our class a reliable, secure, and ad-free forum to keep in touch with each other, and to announce the latest news of planned events.
~~~~~~~~~~~~~~~
If you are a member of the class and this is your first visit to the site, here is your Profile set-up "quick start" guide:
1. Click on "Classmate Profiles"
2. Click on your name
3. Click on "click here now"
4. Follow the five steps to set up your profile
5. The email and password that you enter will also become your site log-in information.
If you click "Remember Me" when you log in, you will not need to log in next time you go to the site.
Note there is a password retrieval feature to click on: "Forgot Password?" in case you need to log in sometime and can't remember your password; the password will be sent to your email inbox. You can login from computers other than your home computer but you will need to enter your password.
If you are a friend, spouse, teacher, or member of our sister class of Anderson HS 1979 and would like to see our private content - we do welcome visitor registrations on our site. To do so, just send an email to administrator@turpin1979.com with your request.
~~~~~~~~~~~~~~~
A word of explanation on the security and privacy of the site.
When a new user comes to the site that isn't registered, they are instructed to go to the Classmate Profiles link, click on their name, and begin the registration process. So, obviously the Classmate Profiles page is open to the public at that point.
Since we would love to use this website as a way of being able to build and maintain a class contact database, we would really love for all classmates to include their home address and telephone number in their profile.
Assuming this information is something that you probably don't want to be publicly available, we believe it's a good idea to secure your profile information by clicking the box called "Profile Visibility" at the bottom of the profile page.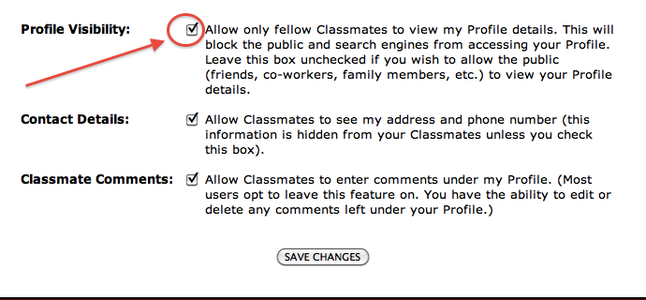 By doing this, only classmates can see any information that you've entered in your profile.
If you've already registered, you can log back in, go to Edit Profiles, and click this box. Then, if you are so inclined, you can click the second and/or third box and be confident that only classmates can see your information.
In order to see how this works, log back out of the site, go to Classmate Profiles, and click on your name. Notice that you can't see any of your information at all without being securely logged in.
We hope this was helpful.
If you have any questions, please don't hesitate to contact us.
~~~~~~~~~~~~~~~
In order to make this site a success, we need to get as many of our classmates registered as possible. The only way that's going to happen is by all of us working to help find everyone. You can start by looking at Classmate Profiles, and seeing who you know that isn't registered, and then contact them (or enter their email if you know it) in the Missing Classmates box to the right of the home page).
Many people probably don't realize that the school and/or the district do not maintain alumni mailing lists, so it's up to our class to do this ourselves. This website can help automate the process, and the more we do online, the more money we can save by not having to do postcard mailings to announce future reunions and events.
We need your help to make the site interesting. Your classmates would love to hear about how you've been, and what you've been doing since high school; and they'd enjoy getting to see some pictures of you and your family, as well as any old pictures or memorabilia you might have from our school days.
When you first register, you will be prompted to enter your biographical information; but you can also revise this information as often as you like by clicking on the Edit Profile link to the left of this screen. Personal photos can then be uploaded by clicking on the Edit/Upload Photos link.
The Class Photos page is where pictures and even documents that would be interesting to the whole class can be uploaded. So if have some memorabilia you'd like to share, please save them to the most logical album on that page.
If you have any questions about the site, please email Scott Blackwell by (clicking here.)
~~~~~~~~~~~~~~~
Here are 10 things we hope you'll do on the site:
1. Update your profile with detailed information about your life since our days at Turpin
2. Include pictures and/or video to make it even more interesting
3. Post pictures and/or images of other memorabilia that would be of interest to classmates in the Photos and Images area
4. Forward news about classmates, teachers, administrators, or the school to administrator@turpin1979.com
5. Use the Message Forum to post general messages for all classmates to see
6. Use the Message Center to send personal email messages to one or more classmates
7. Use the Notify Me feature. It offers a variety of new options to allow you to interact with the site exactly the way you wish to. You'll find it on the left of this page, just under Member Functions.
8. Use Live Chat to create or join a group of people in a chat room style discussion
9. Tell any of our classmates who haven't registered yet about the site
10. If you know the whereabouts or have any contact information of a classmate who hasn't yet registered, please click on the missing classmates box on the lower right of this page and input their email address; or, send an email to administrator@turpin1979.com with any information you may have.